Sheriff Gaming
In order to create an online casino, owners of gambling establishments will need to execute a large amount of work, to hire specialists and to command the services of legal organizations and consulting firms. An online gaming system should meet the requirements of jurisdictions that issue licenses, and the software for online casino must demonstrate strong performance figures.
In this article we are going to tell you about the Sheriff Gaming software.
An online casino gaming system Gaminator3 offers videoslots from Sheriff Gaming and its 3D casino games. Experts have included in this offer the best products for the gambling business created by the most famous providers, such as Sheriff Gaming. The Gaminator company will help you to open a gambling business, to buy 3D slots from leading manufacturers, including Sheriff Gaming.
The brand has started its activity not so long ago, but has already achieved excellent results while creating and supplying operators with 3D slots for casinos. Leaders of the gambling market cooperate with Sheriff Gaming, and it means that this developer has excellent prospects.
To create an online casino with games from Sheriff Gaming
What do you need in order to set up a gambling business?
Here are some helpful hints that will be useful to any casino owner:
Registration. You should literally begin with executive bodies, because without registration of a company or sole proprietorship it is impossible to work legally.
Website. In order to make your casino to function properly, you will need a special gambling web resource, into which you will integrate the software and install roulette, casino flash games and payment systems.
Software. The software for online casino is the engine of all components, without which videoslots will not work, cards will not be shuffled and the roulette wheel will not spin, so the software should be of the highest quality. The gambling platform should always give a good account of itself!
License. Such a permit must be registered in special jurisdictions by providing them with a package of documents with complete information on all members of the company. The license makes your business legal.
Games. Gambling content should be selected very carefully, and it is necessary to pay attention to the reputation of a provider, which supplies slot machines.
Important! Before you sign a contract for the delivery of games, read the information on the provider: how many years does he work at the market, what is the feedback of operators, partners and users.
Sheriff Gaming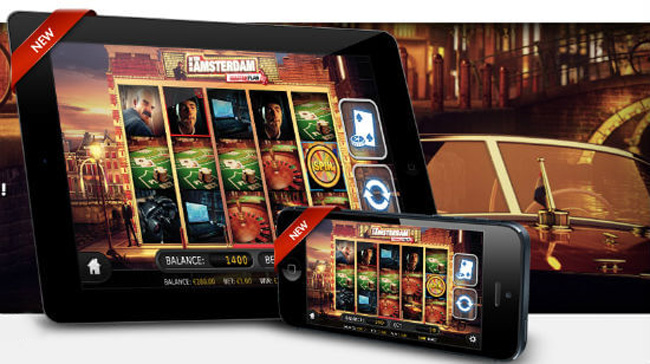 This provider is quite young, but very promising, its products are famous for their reliability and quality, and its casino flash games have already received recognition from users. 3G casino games are recognized as the main creation of the brand, which can be played without downloading them from the gaming site – all players need to do is just to open these games in a browser.
Gambling platform and software from Sheriff Gaming:
Software for online casino, created by top-ranked specialists, is reliable and functional.
The platform supports installation of all known games and payment systems.
The software is translated into twenty languages ​​of the world, and other languages ​​can also be added.
Sheriff Gaming offers software for both virtual and land-based gambling.
Apart from the creation of games, the brand deals with the development of mobile versions of websites and applications.
The whole online gaming system can be fully managed by an operator.
The gambling platform supports all known payment services.
Sheriff Gaming games
3D casino games developed by Sheriff Gaming are something like controlled animated cartoons with funny characters, fascinating storylines and colorful symbols. These games contain a lot of rich colors, pleasant melodies and an excellent mood.
It is worth noting that company produces not only videoslots, but also traditional card games, roulette, video poker, Caribbean poker and baccarat. Of course, it will be fair to say that the crown jewel of Sheriff Gaming is casino flash games, which are unique and it would be very different to find something equal. A gambling platform with such characteristics will catch fancy to any operator.
Why 3D slots from Sheriff Gaming are better than most of other games:
unique themes and interesting storylines that other developers do not have;
characters are painted in bright colors;
background sound corresponds to storylines;
large portfolio of unequalled videoslots;
excellent bonus system with the presence of progressive bonuses;
user-friendly and unusually made interface, which is ready for customization;
online gaming system supports automatic mode;
excellent technical support service, which you can contact at any time;
3D slots are translated into 21 languages, but the company is ready to make a free translation into any language for each client on his request.
This is just a brief description, but in fact casino flash games deserve a more comprehensive description, because each of the videoslots is full of creativity, humor, and really revive spirits of players. The Sheriff Gaming online gaming system is so unusual that it becomes clear why the company has established itself as a leader so quickly. 3D casino games from Sheriff Gaming are truly unique and exclusive, and it is impossible not to recognize them among others.
Beretta's Vendetta
This video slot is about the criminal world and a policeman who tussles with evil without taking a cigar out of his mouth. Graphics and functionality of this slot machine pitch the idea of such an interesting story in the form of a cartoon where characters play as they were actors. Each of them has its own character and habits, and the action takes place in the police officer's office or near banks with cash transit vans or when police is trying to apprehend a criminal who wants to blow up the cashbox.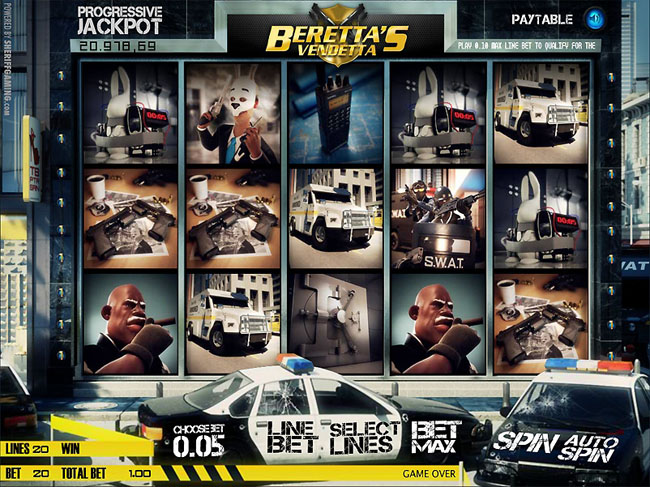 The slot game is equipped with a beautifully designed interface, where functional buttons are situated in different places, for example, on a police's car or on a yellow cordon tape. All characters in this online game are very colorful: a brutal policeman himself with a cigar, a walkie-talkie, armored cars, CIT vehicles, pistols, uniformed soldiers, explosives, a criminal in the mask of a hare, and a cashbox. Usually 3D slots about policemen and shooting are fairly predictable and trivial, but here everything looks like in a real movie.
Pursuits and attacks come with messages that are transmitted by policemen and the police office. Everything is decorated in the style of frames from the action films.
In the described slot there are 20 lines for bets and 5 reels, as well as bonus rounds, free spins, wild symbols and many winning opportunities. The online casino gaming system allows players to win up to 2250 credits.
The Amsterdam Masterplan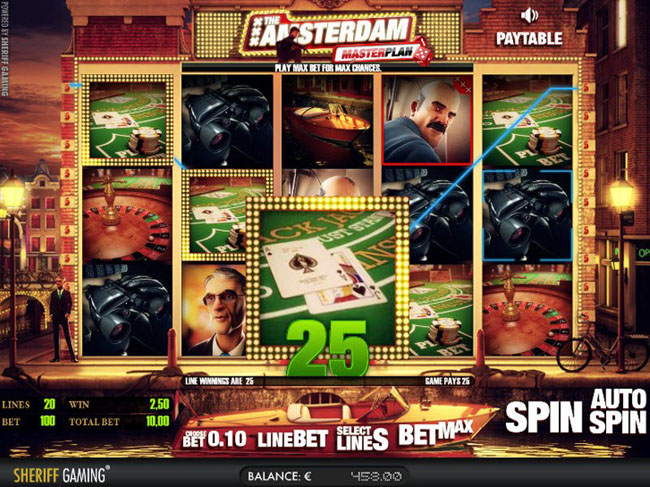 It is another slot machine about adventures from the famous developer. This time, adventurists offer players to rob a casino. Criminals already have all the equipment, and the boat is ready to help the, to escape with money at any time. Users together with robbers look through binoculars at the casino where the roulette wheel is spinning, cards are being shuffled and poker chips are lying on tables. Night city, lights are burning, and a desired casino is against a background of the sunset, and somewhere below there is a shining river that is waiting for robbers. Not all developers have 3D casino games with such a complete storyline.
As for symbols that can be found in the game, we can name the robbers themselves, a laptop, safe doors and a casino card that also acts as an expanding wild symbol. If it appears on third reel, it starts to extend covering three rows and takes the place of all standard symbols, thus forming a winning event. There many interesting things that happen in the game – criminals split a booty, and doors of safes, if there are three of them on the reels, bring players several free spins.
The slot has five reels, twenty winning lines, an excellent design and a user-friendly interface with a minimal set of buttons. The jackpot can bring players p to 8 thousand coins, if they will collect five images with a boat. The game attracts with its catchy plot, graphics and sound effects.
Chinese New Year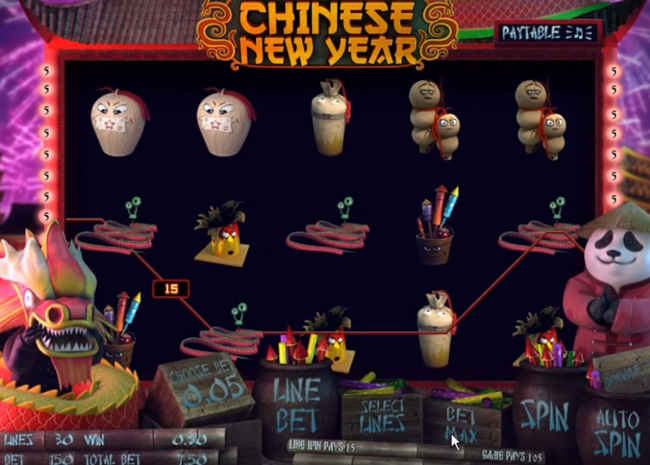 If you are planning to create an online casino, you will be able to fill it with such wonderful games! This slot machine sparkles with funny living creatures in Chinese style, which can make funny sounds. It is hard to say what does it mean, but in all we can see a very positive picture. It is just a New Year that has come to China, and everyone celebrate it. In the game there are wooden figures, fireworks, firecrackers and many more curious symbols that are dancing and singing something nice and beautiful.
The slot consists of 5 reels and 30 betting lines, as well as bonuses, wild symbols and risk-games, in which a Panda throws the dice, and players will need to guess – even or odd. If gamblers are lucky, their winnings will be multiplied by two times, and if not – they will lose everything they won.
Dr. Magoo's Adventure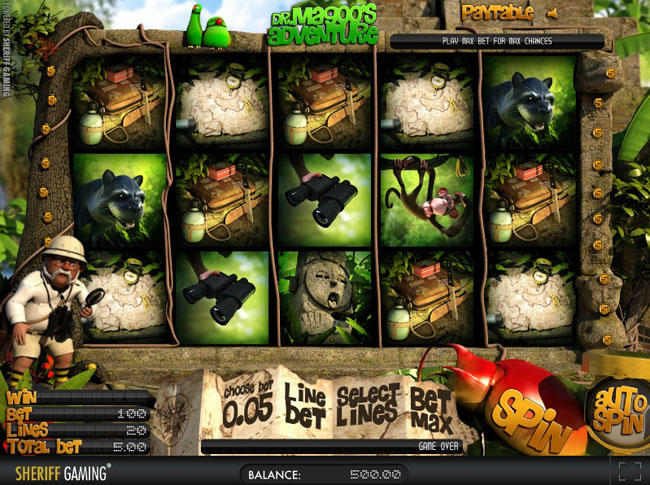 Crazy Doctor Magoo is a globetrotter, who loves adventures and who has everything he needs for this: hiking outfit, binoculars, a monkey and a panther. This eccentric takes a map and goes treasure hunting.
As for the functional, the game is equipped with 5 reels and 20 betting lines, as well as free spins, various bonuses, wild symbols and scatters, and also an automatic game mode. All buttons are in sight – players do not need to think hard, they can immediately start playing.
Like other Sheriff Gaming online slots, Dr. Magoo's Adventure is stunningly decorated, and it will be a great choice for animal lovers, and for some of them it can even replace TV shows. Of course, it is a joke, but there is still a grain of truth in it – images of animals are very colorful!
Fortune of the Pharaohs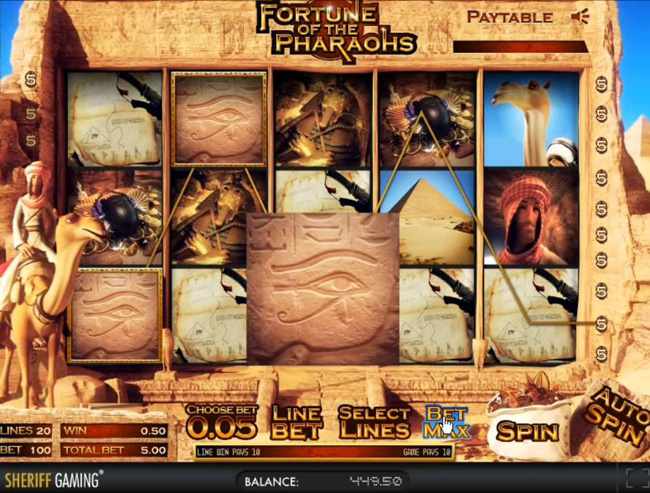 Another slot machine from this developer is dedicated to treasure hunting, but the action takes place in the Ancient Egypt, where there are scarabs, scorpions, camels and magnificent golden pyramids. The game is filled with ancient symbols on the background of the desert and destroyed columns, and an Egyptian in a turban travels by a camel in search of treasures, and on his way he sees statues of gods, pyramids, coffins and even mummies. By the way, you probably have never seen such ridiculous mummies who climb out of coffins howling in terrible voices. Undoubtedly, Sheriff Gaming specialists have an excellent sense of humor!
There are five reels and twenty winning lines in the slot, and all buttons of the functional are understandable and at hand. If players are lucky, and they get five scarabs, the amount of their bets will be multiplied by the size of a jackpot. And a mummy, when it gets out of a coffin, will serve as a wild symbol, take the place of standard elements and spread to the whole middle reel. A sarcophagus acts as a scatter symbol, and if three these symbols appear on the screen, it will bring players monetary prizes. This game has also another scatter symbol – a scorpion, which also helps gamblers to win.
If you want to create an online casino and make it profitable, we recommend you to install Fortune of the Pharaohs – a beneficial video slot with a lot of cash prizes and surprises. This game will bring your gambling establishment lots of luck and a stable income.
Sheriff Gaming: summary
It is also worth noting that the company is very reliable, and all its partners known about it. Software for online casino from Sheriff Gaming has recommended itself from a positive side, and in the course of its work there were no complaints from operators. Videoslots have flattering references, and the gambling platform has been in demand for many years.
Experts believe that 3D slots have moved well ahead in comparison with products of other manufacturers thanks to graphics, sound and storylines. Every year there appears many casino flash games on the topic of the Ancient Egypt or adventures and treasure hunting. But all of them are very far from Sheriff Gaming games.
It is possible to buy online casino game from Sheriff Gaming and a dozen of other leading developers from Gaminator3 – this online gaming system brought together a lot of excellent slots.